Flower Beds and Sea Shell were designed as a pair. Flowerbeds was constructed in 1987 on Jetty D on Honmoku Wharf, a short distance from Sea Shell. It also refers to the environment where it is installed but in a different way than either Saku or Sea Shell. It is more like landscape architecture than sculpture.


Located in a corner of a container yard facing the ocean, the two flowerbeds are built with thick stone walls in the form of a wave and a sea shell. The artist noted that the ocean off Honmoku Wharf contains both warm and cold currents. Therefore, he planted flowers that come from the Philippines and Okinawa on the warm current such as crinum, Peucedanum japonicum, Memorial rose, and Pacific chrysanthemum and flowers that come on the cold current from the Aleutian Islands like sweet brier. All of these flowers once grew, or are thought to have grown, on the Honmoku shore. Experiments were performed with a botanist to find the best way of planting the flowers.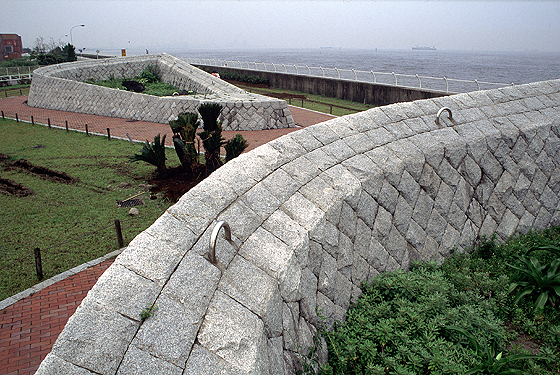 Yokohama, an Object Far Away - Part 2. Flowerbeds
Photo: Naoki Takeda

Yokohama, an Object Far Away - Flowerbeds refers to a long time line, extending from the past through the present and into the future, and its capsule-like flower beds project a spatial axis that links up with far-reaching ocean currents. This is grandly romantic work, providing pleasure to passersby, presents a contrast to its rather bleak site, a container yard built on landfill. The method of artificially producing a model environment to expresses the essence of a place is also found in traditional Japanese gardens. This work is literally a garden, but whether it is seen as a garden or a sculpture, it has the additional role of a monument, celebrating the magic and grandeur of the natural environment..


This message is augmented by the size and thickness of the beautiful stone walls, which exceeds any practical requirement. These walls assert the value of the objects inside them and call attention to the important message being presented to the viewer.


Several years after the work was completed, the plants in the flowerbeds took firm root and began to proliferate. Surplus plants were transplanted by the maintenance staff, creating a plant community on the nearby seashore with species from the flowerbeds and demonstrating that the will of the artist continues to grow and expand in the form of living plants.
 
Translated by Stanley N. Anderson